7 Quick Tips for Getting 'Beach Ready'
here is nothing like the sun appearing to motivate you to get in shape and feel good so here are my top tips to help you feel good this summer:
Fad diets... need we say more.
Whatever you do, please do not follow some crazy crash diet like juicing, shakes or skinny teas in an attempt to lose weight as fast as possible. The key to a healthy lifestyle is all about being sensible with your food choices. Try eating less of the processed foods like takeaways, crisps and cakes and replace them with fresh vegetables, fruit, fish, poultry, and eggs. It really is that simple.
Weights are not your enemy!
Why not try adding in weights into your next exercise routine. I know weights seem scary at first but they will become your best friend! Weight training is one of the most efficient forms of exercise when it comes to fat loss, especially when its paired with good nutrition. Ask a trainer in your local gym to give you a beginner weights program to help you get started or try an online based training plan if the gym is not for you, there are so many options out there to help get you started.
Venture outside every once in a while...
Go explore the outdoors (it's really not that bad, we swear). We don't get great weather often in Ireland so why not use the weather to your advantage and try get out for walks or a cycle. Not only are you getting fit but you'll also be taking in lots of vitamin D which is essential to a healthy body and mind.
Drink up!
Think of water as your best friend. It is extremely important that you stay hydrated because if you don't, dehydration will cause a lot of nasty side effects on your body. To avoid constipation, water retention and dehydrated skin aim to drink at least  2 litres of water throughout the day. Your body will thank you later!
Take it easy on the booze...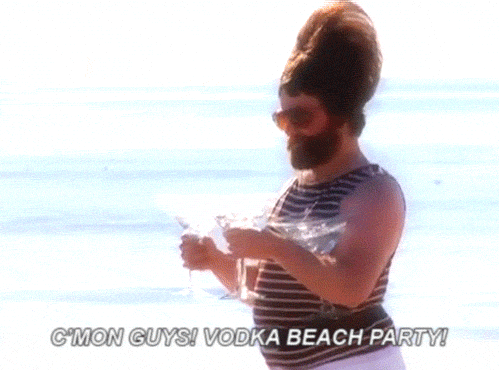 As tempting as it is to run to a beer garden once the sun makes an appearance, alcohol can play havoc with your health and fitness goals especially if that pilgrimage is every weekend.  Combat this by reducing the frequency of your boozy weekends. If you don't want to completely avoid alcohol, pay attention to what you're drinking. Ciders, alcopops and cocktails all come with a high sugar content so try replacing them with lower calorie options such as spirits with soda water or low cal tonics.
It takes time.
If you have a holiday booked or want to get in shape this summer, don't leave it until the week before to start a new food and training plan. This will just result in starvation diets and over training which is not good for your body long-term. Always keep in mind that preparation is key! It will be much more enjoyable if you focus on long-term goals by giving yourself a couple of months to make lifestyle changes rather than looking for quick solutions for summer.
You can do it!
Finally, believe in yourself! It's no secret that keeping up a healthy routine requires motivation (which is sometimes hard to keep). Keep yourself motivated by treating yourself to some summer gear, bikinis, or shorts and hang them where you can see them daily to keep you focused. Another way to stay motivated is by testing your fitness levels, see how long a 5k walk or run takes you then check again in a couple of weeks, to see if you've improved. Always look for different ways to track your progress.
Aoife is a Foods For Fitness Ambassador and founder of Pixie Fitness. She is a fitness and well-being consultant who loves exercising, nutrition and her family! Follow her journey at www.pixiefitnessdublin.ie or on Instagram

 

here.
Leave a comment