10 Beautiful Beaches of Ireland
Lets be honest warm weather in Ireland is like getting an extra chicken nugget in McDonald's... it rarely happens. So why not grab some friends or your family and use this hot spell as an excuse to go on a road trip to some of the most amazing beaches in Ireland.
Keem Bay, Co. Mayo
To say that this is one of the most picturesque beaches in Ireland is an understatement. Keem Bay is the place to go if you want to escape from the big shmoke or if you just want a peaceful retreat away from your busy lifestyle. Located on the western end of Achill Island, Keem Bay is accessible by road over a twisting clifftop route on the side of Croaghaun mountain which on a sunny day will help you up your Instagram game. For those of you who can't sit still for too long Keem Bay also has a breathtaking 1.5km walk along the top of the cliffs of Benmore towards Achill Head (so you can definitely get in your 10,000 daily steps).
Dog's Bay, Co. Galway
This spot is a double whammy  - not only do you get to Dog's Bay but it backs onto Gurteen Beach which is equally as breathtaking. Dog's Bay is located close to Roundstone village and as you can see has a spectacular horseshoe shape with more than a mile long stretch of white sandy beach. What's even more amazing? The sand is not made up from your typical limestone but instead was formed from the fragments of tiny seashells, which makes for a sparkling white colour. Why not make a weekend out of it and rent a cute little cottage just minutes away from the two beaches.
Ballybunion, Co. Kerry
Ballybunion is the place to be if you cannot sit still for more than 2 minutes. Not only is the view absolutely awesome but there are loads of activities to take part in. Firstly why not play a spot of golf on two of the most enchanting, world class courses at Ballybunion Golf Club. If golf isn't for you, have a crack at something more adventurous like surfing. Don't worry if you never went through the surfer dude phase, just book a lesson with Ballybunion Surf School and you will be well on your way to joining the cast of 90210.
Sandycove, Co. Dublin
Dublin has a lot going for it *cough* Winning three All-Ireland's in a row *cough* but unfortunately scenic beaches are not a strong point for the Jackeen's. Although one beach that's worth a look is Sandycove in Dun Laoghaire. Not only is this picturesque spot once an inspirational location for James Joyce but it is also backs onto the famous Forty Foot. Sandycove is the place to go if you fancy a day of cliff jumping finished off with an Ice cream from the ever popular scrumdiddlies  (or Teddy's) before walking on the beautiful east pier.
Silverstrand, Co. Wicklow
What differentiates Silver Strand from the rest of the beaches is the fact that it will cost you €8- €10 to access this private beach. I know paying to enter a beach is not ideal but the price is definitely worth it! When "an ghrian ag scoilteadh na gcloch" (the only thing i remember from leaving cert Irish) Silver Strand looks like a scene from Momma Mia with its caramel sands, electric green water and splashes of ivy, grass and honeysuckle tumbling down the cliffs.
Inchydoney Beach, Co. Cork
If you follow the road just beyond Clonakilty you'll find stumble across the gorgeous Inchydoney Island. This patch of land looks out onto the crystal clear Blue-Flagged waters of Clonakilty Bay. Inchydoney Island is the perfect place if you're in need of a relaxing weekend away or if you want to add a bit of romance into your life. Book into the 4 star Inchydoney hotel and spa to be able to sit back, relax and have one of the best views in Ireland.
Coumeenoole Beach, Co. Kerry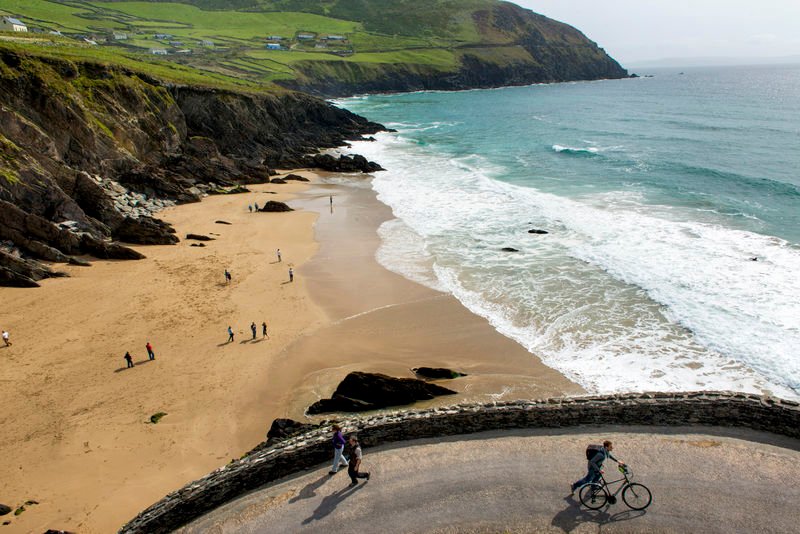 Coumeenoole Beach is definitely one of Ireland's hidden gems. Not only does it's golden sand and turquoise sea make it a picturesque location, it is also a great spot for you budding surfers. As part of the dingle peninsula Coumeenoole Beach is located only a short 30 minutes drive away from Dingle town. It is definitely worth a detour to view the rugged yet beautiful coast.
Curracloe Beach, Co. Wexford
Curracloe Beach in Wexford is one of the most popular beaches in Ireland. In summer the area is bustling with life especially as a lot of Dubs make the migration down south-east to their mobile homes for the summer months. Unlike a lot of beaches in Ireland Curracloe is renowned for it fine and soft, sandy beaches. It was this beach the the legendary film starring Tom Hanks "Saving Private Ryan" was filmed. Right beside the beach is the Raven Nature Reserve (Curracloe Forest / Raven Wood), which is a 3.5KM-long forest that is filled with pine trees and evergreens. The forest has an extremely popular walking trail that is ideal for everybody.
Maghera Beach & Caves, Co. Donegal
Maghera Beach and surrounding caves is an astounding location to go visit and is one of the most exquisite beauties Ireland has to offer. The beach and caves are located only a short distance away from the stunning Assaranca Waterfall. In total there are over 20 caves, 8 arches and 5 tunnels which can be visited, ideally by Kayak or other small crafts. If you have a hunger to explore, Maghera will definitely satisfy you!
Dunmore East, Co. Waterford
Dunmore East which is located along the "Sunny South-East" i one of the best places in Ireland to go if you love to snorkel. The coastline surrounding Dunmore East consists of sheltered coves and calm waters teeming with interesting sea life. After you day in the sea or on the beach, stumble into the town for some of the best seafood in Ireland.
What is your favourite beach in Ireland? Let us know and we can add it to our list!
Leave a comment